Lectures and Workshops

If you've signed up for one of my workshops & want to purchase a kit, see available options HERE!
Feel free to email me if you want an email about available kits!
Lectures:
From the thread makers of Aurifil… a program designed to unlock the mystery of thread, educate the masses, and help all users achieve brilliant results! Sarah, a certified Aurifilospher, will present a fun and informative presentation and trunk show of her quilts, including works that were recently displayed at QuiltCon and at various American Quilter's Society shows, that will increase your knowledge of thread, tools, uses and tips. Exclusive Aurifil resources and swag for attendees included!




Fearless with Fabric


Learn how to become Fearless with Fabric! Based on Sarah's book, learn about her methods for combining styles of fabric within a quilt, moving beyond pre-packaged bundles so you can make your own statement. The presentation will feature a trunk show of Sarah's original designs and include many illustrations of how to update traditional blocks for a fresh, modern feel.



Workshops
* Most of my workshops can be offered as either a 3 hour or a 6 hour class, depending on student preference.

* Many of my classes have optional acrylic templates available to make cutting and sewing easier.

* Optional supply kits of curated fabrics to make the class project in either a traditional or a modern version are available.

Supply lists for all workshops available here.


Sew on the Go

Portable and oh-sew-relaxing, you'll be addicted to hand piecing once you've learned all the tips and tricks for success. See how color and value variations can update the classic Cotton Boll block. Sarah will cover her approach to developing and auditioning color variations for a pattern and help students settle on a color scheme for their project. Students will then make a small piece that can be finished as a wall-hanging or a pillow or use the class project as the beginning of a full-size quilt.



Supply list & alternative colorways here. Kits available! Order here.

Sew More on the Go

Take your hand piecing to the next level as you learn how to evaluate a block for the easiest methods of assembly. Learn the best methods for stitching Y-seams and creating sharp points. Develop and audition color and then begin stitching on a small piece that can be finished as a wall-hanging as the beginning of a larger quilt. View supply list here. Order a kit here.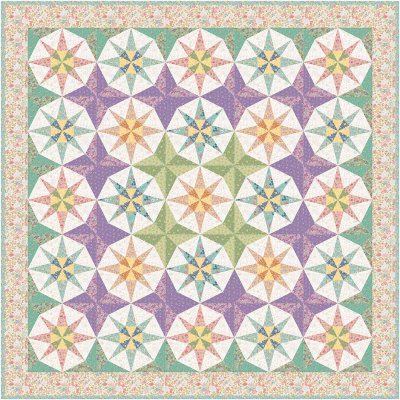 Perfectly Precise Piecing

Dream of piecing quilts that look complex but are totally achievable? Then it's time to learn how to accurately use templates--either self-made or optional acrylics. Learn all of Sarah's secrets for fabric preparation, marking techniques and how to achieve precisely pieced blocks. 6 hours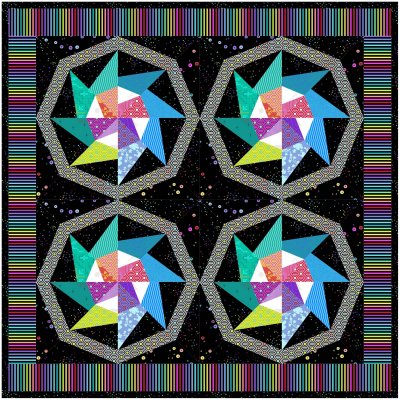 Speed it Up

Take your rotary cutting and machine piecing to warp speed while retaining accuracy. Learn all Sarah's tips and tricks to accurately speed cut and machine piece this easy quilt. Perfect for showcasing a rainbow of prints or make a two-color version to commemorate a graduation or school event.

Original quilt


Close up of alternative colorway of the Rows quilt

Even Faster

Learn all about color theory while you hone your rotary cutting and piecing skills. Explore how a progression of color or value updates traditional blocks. Learn how to combine prints within a quilt and evaluate tones, tints and shades of colors. Rotary cutting and piecing tips and tricks will be the focus of this class.

Reunion

Precision piecing master class. Learn all of Sarah's secrets to precise piecing and blocks that finish the right size every time. Make a variety of blocks from Sarah's Reunion quilt in this all-day class.
Swivel



Star Shine


Shine Bright


Put a Spin on It
Learn how partial seaming techniques can lead to a design that seemingly never ends with no set-in or Y-seams.








Party Lights
Master the traditional Periwinkle block with no set-in seams using Sarah's construction techniques and acrylic templates. Pulling lessons from her Fresh Quilts from Traditional Blocks book, Sarah explores color theory and how a progression of color or value updates this traditional block. Rotary cutting and piecing tips and tricks will be the focus of this class. This is a 64" x 73" quilt as shown and students could make a smaller wall-hanging version in class or continue on at home.


Supply list here. Contact Sarah if you're interested in a kit of similar fabrics (or in something totally different!) for your class.

Heavy Lifting


Large-scale and/or busy prints are ready to do the heavy lifting in your quilts. Learn all the tips and tricks to pairing multi-color lead actors with supporting characters to create visual balance. Explore color theory and how to combine more than one "busy" print in a single project. Accurate strip piecing of nine patch units and framing squares is also covered.


Fees are available here. I'm always happy to create exclusive lectures and workshops based on my patterns and products and create custom packages based on size of group & interests.

Email me for details at "sarah at designsbysarahj.com".