Party Lights Supply List


64" x 73"
Beginner friendly
Materials:
· ¼ yard each 24 different prints in a rainbow of prints.
· 4 yards of background and binding print
· Notebook, pen, and pencil
Paper bag for trash

Seam ripper
Straight pins
6" x 12" ruler
Thread snips

Rotary cutter
Rotary cutting mat—minimum size 12" x 18"
Ruler—6" x 12" or 6" x 24"

Neutral sewing thread to match fabrics
Optional acrylic template set highly recommended. (Note: This is included in some class fees, depending on how the class is set up so be sure to review the materials in the class catalog!)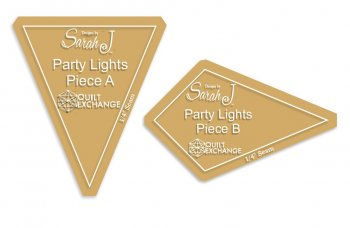 Email sarah@designsbysarahj.com with any questions!